Book Review:  Crazy Love by Francis Chan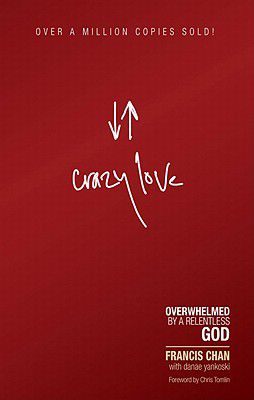 Basic Info…
Title: Crazy Love
Author: Francis Chan
Publisher:  David C. Cook
ISBN-10:  1434768511
ISBN-13: 978-1434768513
Website:  Crazy Love Book
My thoughts….
I love how easy to read this book was.  It was well written, soundly based in Scripture, but it still remained easy to read. For me, when a book has a lot of theology and Bible verses and explanation of those verses using history and Greek/Hebrew translations, it's not something I pick up when I only have a few minutes.  Don't get me wrong, I think those books are extremely important.  But Francis Chan easily conveyed significant verses with real life examples and made this book life changing and powerful.
I am a huge fan of listening to Francis Chan preach, but this was the first book of his that I have read and I can't wait to get his others.  I love the website that goes a long with the book.  It's impossible not to get enthusiastic about giving and loving when you hear him speak or read his writing.  It comes across as authentic because it is.  He isn't telling us anything he doesn't live out in his life.  That makes him even more powerful at sending a message.
I found one of the best parts of the book is that Chan isn't trying to tell you exactly what this is going to look like in your life.  He gives you the steps to get there.  And he gives awesome real life examples of what that looks like in other people's lives.  It's inspiring.  And it inspired me to really seek God and get creative.
I also love Chan's take on "God's calling" on our lives.  It's a bit nontraditional, but I think it is so completely true.  We often wait to hear this divine call on our lives from God rather than going out and getting our hands dirty and really living for Him.
I could not recommend this book more.  And I can't wait to read and watch some of the material that goes along with it.  It's incredible.